Welcome to "Obsessions of a Roller Skater," the ultimate podcast for all things roller skating! Join Danielle and Adeline on this exhilarating journey as they delve deep into the world of roller skating, sharing our passion, insights, and experiences with fellow skaters and enthusiasts. Hear exclusive Interviews with those who are shaping the roller skating communities around the world. Roller skating is more than just a hobby; it's a lifestyle. Our podcast is a platform where skaters of all levels can come together to share their love for the sport, learn from experts, and find inspiration to take their skills to new heights. Don't miss out on the excitement! Subscribe to "Obsessions of a Roller Skater" on popular podcast platforms like Apple Podcasts, Spotify, and Google Podcasts, or watch our episodes on YouTube Join the conversation on instagram, share your stories, and let's skate into the future together.
Episodes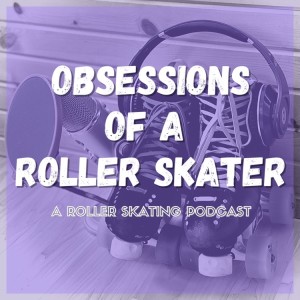 Thursday May 27, 2021
Thursday May 27, 2021
We talk to one of the co-founders of Rolla Skate Club, Lucy Croysdill (Lulu Demon, and learn all about how they are building a community of bad-ass women on wheels!
Instructor Bootcamp June 5th & 6th: Register Here
Instructor Course (no bootcamp): Register Here
Rolla Skate Club Owners: LuLu Demon & BootyQuake
Find Rolla Skate Club on Instagram and Facebook
Mentioned Skater: Coach Smarty Pants
GET ROLLING!
Follow Me on Instagram! --- @obsessions_of_a_rollerskater